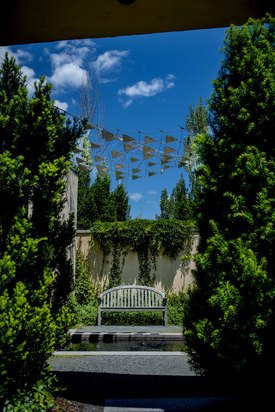 Windjammer
Rob Fisher
Audio Tour
1998
MATERIAL: metal: steel, stainless
DIMENSIONS: overall:
EDITION: Unique
CREDIT: Grounds For Sculpture, Gift of The Seward Johnson Atelier
© Artist's Estate, photo: Ken Ek
Press play to learn more
'Windjammer' moved to the sculpture park from the Pier Walk '98 exhibition, an annual outdoor sculpture exhibition in Chicago, IL. The stainless steel, geometric sculpture flutters fifteen feet high off the ground, held in position by fiberglass masts. The work's repetitive grid structure with attached, precisely cut triangles designed to interact with the environment hints at Rob Fisher's Master's degree in industrial design. His interest in technology led Fisher to design many interdisciplinary multimedia projects. During his lifetime, Fisher taught several courses encompassing the disciplines of art and technology on the college level.