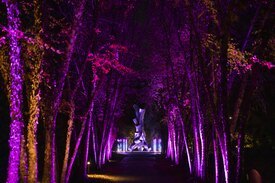 River Birch Allée

Latin name: Betula nigra
In 1989, just beyond the Motor Exhibit Building, we built what would become the access roadway for the loop road through Grounds For Sculpture. Inspired by scenes from Europe, it seemed like a perfect location for planting trees to form an allée. Originally planted in 2002 with Lombardy poplars, which did not thrive, it was determined that the native River Birch was a more suitable choice for this climate and so the poplars were replaced in September of 2008. Today, the beautiful river birch with their warm coloring and textural bark herald visitors on the journey into the heart of the sculpture garden. In addition to creating a majestic pathway for strolling, the River Birch Allée creates beautiful moments for visitors to admire the contemporary sculptures that are sited between its trees and along its edges.
EXHIBITION ON VIEW
November 26th, 2021 - February 27th, 2022
Night Forms: dreamloop by Klip Collective
dreamloop pulls you to an edge somewhere between the subconscious, space and the hyperreal; an unknown plane manifested by the flux of order and chaos. Time shifts, patterns emerge, mutations spawn, and your perception evolves.
dreamloop by Klip Collective is a visual and sonic reinterpretation of our consciousness catalyzed by the forms and spaces of these grounds. A simulation, a vibe, dreamloop is shaped by the strange beauty in the scenery of sculptures. It exists in our sensorial perceptions, validated by our shared human experience. Yet, in the paradox of reality, what is real, if it is only what we think it is? How do uncanny imperfections, distorted memories, processing errors form this persistent representation we call reality?
We present to you a portal into an abstract cinematic landscape of light and sound: a dreamloop. an illusion. our alternate reality. 
Edge Run
Chasing down the path, a passageway in, past the guards of birch trees. Ordered movement guides us forward as we cross the fold, lights tumble and twist and refract along multi-dimensional lines.
Music written and produced by Dan Deacon
Lighting Design: Julian Grefe
                           Justin Geller
                           Syd Miller
Lighting Program Editor: Nina Isaacson
Klip Collective, Edge Run, and Bruce Beasley, Torqueri XIII, 2018, stainless steel, 270 x 137 x 141 inches, Courtesy of the Artist, photo: David Michael Howarth Photography