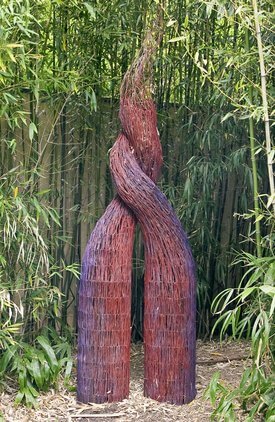 Siren
Niki Ketchman
1994
MATERIAL: metal: wire, aluminum; steel, steel rod, galvanized steel fencing
DIMENSIONS: overall: 117 in x 31 in x 14 in
EDITION: Unique
CREDIT: Grounds For Sculpture, Gift of The Seward Johnson Atelier
© Artist or Artist's Estate
Niki Ketchman was one of three artists to participate in Grounds For Sculpture's Fall/Winter Exhibition 1995/96, 'Three Sculptors and Their Drawings'.  'Siren', is now part of the GFS collection. Ketchman describes the seminal role of this sculpture compared to her body of work:
"'Siren' was a transitional sculpture for me. The majority of my earlier sculptures were painted black and had a "curly" surface because they were imitating the ink line. I arrived at these sculptures by first doing drawings done by scribbling, with nothing special in mind, in a very relaxed state. When shapes emerged from these drawings that seemed meaningful I built them into sculptures. As time went on, I started to think of the surfaces less as ink lines and mores as something I was weaving. That opened possibilities for all kinds of surfaces and colors. 'Siren' was the first sculpture that I built that is a color that stems from the idea of the sculpture.
I have used colors as an additional expressive element since 'Siren'. My more recent work has become overtly feminine and even feminist. 'Siren' foreshadowed this as well by alluding to the unflattering way women are portrayed in the story of the Sirens. The title 'Siren' was the name given to three sea nymphs who lived on an island. According to Greek mythology, their singing drew sailors to their shores. Then the men would forget home and friends, and at last starve to death. Circe the sorceress warned Ulysses of the danger of the Sirens. He put wax in his sailors' ears so they could not hear the song. Then he had them tie him to the mast. Ulysses listened to the Sirens, but could not go to them. They killed themselves because they had failed. I made 'Siren' a sensuous color and form to attract, but with the branch-like wires out the top to be foreboding."