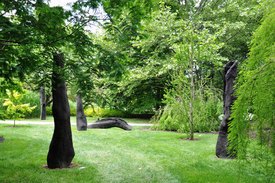 Excerpts of a Lost Forest: Homage to Ashera
Tova Beck-Friedman
1992
MATERIAL: other: concrete; ferro-cement; vinyl; pigment
DIMENSIONS: 5 elements each: 96 in
EDITION: Unique
CREDIT: Grounds For Sculpture, Gift of The Seward Johnson Atelier
© Artist or Artist's Estate, photo: Ken Ek 
Tova Beck-Friedman sculpts space--her works consist of dynamic configurations of multiple elements whose individual forms invite figurative and architectural interpretation and collectively suggest a psychological space that is activated through the interaction of the viewer.
'Excerpts of a Lost Forest: Homage to Ashera' displays the artist's emphasis on natural formations and illustrates her interest in weaving in layers of ancient and archetypal shapes. Although the five elongated pieces are placed apart, they are closely related and interact with one another.  Both loosely figurative and architectural, these works seem to communicate with each other. Beck-Friedman's eloquent forms demonstrate the implied dual definition of the Hebrew word for edge: "sapha," meaning both "lip" and "language." Beck-Friedman emphasizes the significance and strength of the edge in her work and asserts that, "the primal power of the edge creates a dialogue between the object and the viewer."
The name "Ashera" refers to the ancient Hebrew goddess who was revered in groves. This piece is intended to be a tribute to those who suffered through the atrocities of the Holocaust.