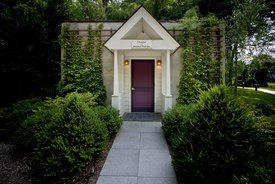 Chamber of Internal Dialogue
Seward Johnon
2011
MATERIAL: metal: bronze, other: mixed media
DIMENSIONS: overall: 258 in x 114 in x 135 in
EDITION: Unique
CREDIT: Collection of The Seward Johnson Atelier
© 2011, The Seward Johnson Atelier, Inc., photo: Ken Ek
With this sculpture Seward Johnson surprises his audience with a work that provokes both interaction and serious introspection. The sculptor makes use of two iconic and familiar faces depicting opposing emotional states - the first brought forth by a sculpted rendering of Edvard Munch's 'The Scream' and the second suggested by Johnson's homage to Odilon Redon's 'Silencio'. The fierce intensity of 'The Scream' offers direct contrast to its counterpart the blissful or even resting face of 'Silencio'. This dichotomy invites the viewer of the sculpture to find him or herself between two choices. As Johnson says,
"We all reach places where we have to decide whether to work out a problem on our own, or seek advice, counsel and outside support. In this sculpture I want to challenge the audience to recall how that feels, or even come here with an issue and determine which road to take."
The addition of a therapist's couch - set between the towering walls of the two emotions - provides a place for sitting and contemplating the next move. It might begin as a seat for thinking about the artwork, but Johnson hopes that the act of sitting or lying in this "chamber" will also bring about a deep and very personal reflection.