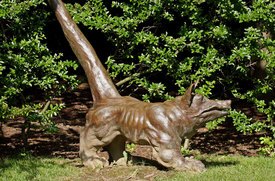 What Was That?
Dana Stewart
1997
MATERIAL: metal: bronze
DIMENSIONS: overall: 70 in x 19 in x 76 in
EDITION: Edition, 1/5
CREDIT: Collection of the Artist
© Artist or Artist's Estate
Circling a ring of lush greenery in the sculpture park are more than a dozen bronze beasts by Dana Stewart. The individual characters are based upon the artist's own imaginary menagerie. Playful, whimsical and amusing at first glance, more in-depth contemplation of the fanciful creatures reveals underlying dark and somber qualities. Grimaces, snarls, stances, and other gestures convey an array of emotions, including fear, lamentation, and aggression. Tails, commonly recognized as an animal's emotional barometer, are exaggerated in size in comparison to each creature's body mass. Long and thick, the appendages are held upright, standing erect, taut and on-guard. The straining, extended necks and the tight lines of the textured bodies aid in relaying this tension between lighthearted whimsy and the darker range of emotions.