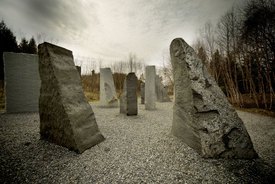 Space of Stone
Magdalena Abakanowicz
2002
MATERIAL: stone: Barre grey granite, Pennsylvania black granite
DIMENSIONS: overall: 152 in x 181 ft x 69 ft
EDITION: Unique
CREDIT: Grounds For Sculpture, Gift of The Seward Johnson Atelier
© Artist's Estate, photo: Ken Ek
 
'Space of Stone' is one of Abakanowicz's major large outdoor installations and was commissioned for Grounds For Sculpture. The two varieties of granite used in this work were chosen by the artist because of the strong surface texture and the contrast between the stone's light and dark tonalities. Abakanowicz said of this material, "The stone I used is broken stone, often rejected by quarries.  It shows the way stone wants to crack."
Twenty-two elements were cleaved from blocks of granite--the stones give the appearance of natural rock formations.  Abakanowicz's intention was to place the stones in such a way as to set up an environment that, in the artist's words, "We must enter, penetrate, become part of." By becoming an active participant with the sculpture, the viewer is asked to contemplate nature's creativity, compare the scale of one's self to the scale of the surroundings, and to experience the increasing compression and tension of space as one walks towards the center of the sculpture. 
The experience of space is an element that Abakanowicz often integrated into her work.  "Overcrowding is as aggressive as emptiness.  My idea of sculpture as space or of space as sculpture was conceived among crowds.  A crowd is only a thousand times duplicated, a repetition, a multiplication.  Among such a great number, one person is extremely close and, at the same time, terribly distant."