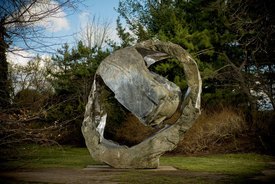 Where is Geometry?
Peter Lundberg
1999
MATERIAL: metal: steel, stainless; concrete
DIMENSIONS: overall: 168 in x 144 in x 144 in
EDITION: Unique
CREDIT: Grounds For Sculpture, Gift of The Seward Johnson Atelier
© Artist or Artist's Estate, photo: Ken Ek 
Completed in early 1999,' Where is Geometry?' is considered by the artist to be his best sculpture to date. This piece further continues the artist's exploration of creating large-scale works in stainless steel and concrete in which he addresses variations of circular contortions. Stainless steel lines the inner sides of the rings that are joined together into a single unit, and the exterior portions have been built up with concrete. The silver of the metal and the gray of concrete meld into one somber monochromatic hue, while differing textures and reflective qualities accentuate the inherent properties of each individual material. The smooth, metal surfaces are enlivened with an overall pattern of calligraphic swirls produced with a grinder. Depending upon the medium and treatment, sunlight is either captured or reflected off of the surface areas in varying degrees. The heavy massiveness of this sculpture is lightened by the open areas and by the illusion that the smaller, inner circle, attached at only one point, defies gravity and remains suspended.