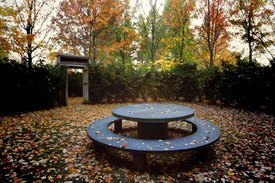 Radiant Disk & Ice Ring

Michele Oka Doner
1992 (cast date, original piece is dated 1989)
MATERIAL: metal: bronze
DIMENSIONS: overall: 18 in x 120 in diameter
EDITION: Edition, 3/3
CREDIT: Grounds For Sculpture, Gift of The Seward Johnson Atelier
© Artist or Artist's Estate, photo: David W. Steele
At the early age of 7, Michele Oka Doner came upon a Venetian grotto chair in Florida. This observation taught her "that furniture doesn't have to be mundane." Later in her career, Oka Doner created furniture, works of art which are tied closely to mythology and celestial surroundings. 
'Ice Ring' represents the ice rings found around Saturn as captured in photographs by the space craft Voyager. In the center is 'Radiant Disk', incised with radial marks that attract and channel light. The difference in surface treatments of the two works contrast references to the coldness of Saturn's ice rings with the bright, warmth of the sun.
EXHIBITION ON VIEW
November 26th, 2021 - February 27th, 2022
Night Forms: dreamloop by Klip Collective
Singularity Ring
There is beauty in math and magic through ritual. Enter the mysterious ring of trees, for a hypnotic spell and meditative enchantment. 
Music written and produced by Jeff Zeigler
Lighting Design: Julian Grefe
                           Justin Geller
                           Syd Miller
Lighting Program Editor: Nina Isaacson
Animator: Matt Hall