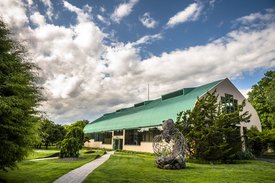 Museum Building

One of the original New Jersey State fairgrounds buildings. Now a gallery of rotating exhibitions by global contemporary artists.
photo: dmhphotographer.com
EXHIBITION ON VIEW
MAY 22, 2022— JANUARY 8, 2023
ROBERTO LUGO:  THE VILLAGE POTTER
In 2022 GFS will present an exhibition of work by ceramicist, performance artist, and educator, Roberto Lugo in the Museum building.  Lugo is a master of ceramics creating vessels that reference traditional European and Asian decorative arts, historically displayed as luxury items in wealthy homes.  His surface treatment is a mixture of traditional design, graffiti, and portraiture, often including the faces of those that history leaves out, focusing his representation on icons from BIPOC contemporary culture and history, as well as more personal works that point to his and his family's personal experiences.
"There's a distinct separation of classes that happened in the history of ceramics —at some point porcelain was considered more than expensive than gold. And so, I'm thinking about that wealth gap, I'm thinking about the sort of contrast and livelihood, the violence on the streets that I grew up in versus the people that I wind up surrounding myself with."
(Roberto Lugo, Interview Magazine, "MEET ROBERTO LUGO, THE POTTER MAKING CERAMICS OF BIGGIE AND BASQUIAT" By Bessie Rubinstein, Published March 17, 2020)
Through his work, Lugo creates space for conversations around the concepts that are important to him regarding equity, access, and social and racial injustice, and points to the larger conversation around monuments- questioning who we choose to celebrate and what message that sends.
Lugo will be in residence at GFS through the winter of 2022 creating a series of large scale ceramic vessels for the exhibition which will be created and fired on site. Through a partnership with The Seward Johnson Atelier and the Digital Atelier, Lugo will create a new monumental sized work that will provide opportunities for visitors to physically interact within the form.  The exhibition gallery will also feature drop-in creative maker spaces to offer visitors of any skill level an opportunity to nurture their inner artist through exploring the medium of clay.
In addition to his work as an artist, Lugo is a professor of ceramics at Tyler School of Art and Architecture, and is an active supporter of the ceramic community, recognizing the opportunity that ceramics has presented for him and seeking to pave the way and create opportunities for other artists.  To share his community with GFS visitors, Lugo will curate a companion exhibition of works by his mentors and those he has mentored in turn, on view on the Museum Mezzanine.
Roberto Lugo holds a BFA from the Kansas City Art Institute and an MFA from Penn State.  His work has been featured in exhibitions at the Houston Center for Contemporary Craft, the Clay Studio in Philadelphia, and the Museum of Arts and Design in New York, among many others.  Lugo is the recipient of numerous awards, most recently including a 2019 Pew Fellowship, a Cynthia Hazen Polsky and Leon Polsky Rome Prize, and a US Artist Award. His work is found in the permanent collections of the Los Angeles County Museum of Art, Philadelphia Museum of Art, and The Brooklyn Museum. His solo exhibition at the Walters Museum of Art in Baltimore received international acclaim, earning a spot in Hyperallergic's "Top 20 exhibitions of 2018″.
Roberto Lugo: A Village Potter is supported in part by the Edna W. Andrade Fund of the Philadelphia Foundation.