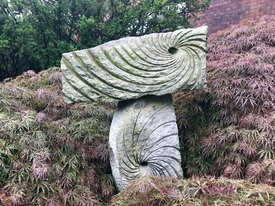 Internal Evolution
Béla Fűkő
2005
MATERIAL: stone:  limestone
DIMENSIONS: overall: 38 in x 30 in x 12 in
EDITION: Unique
CREDIT: Grounds For Sculpture, Gift of The Seward Johnson Atelier
© Artist or Artist's Estate
Originally included in Grounds For Sculpture's exhibition, 'Balanced Dialogue: 10th Anniversary of the Hungarian Sculptors Society' (2005/06), Béla Fuko's 'Internal Evolution' is now part of the GFS collection. Appropriately sited in an environment that encourages tranquility and contemplation, Fuko's sculpture inspires introspection.
Influenced in part by the psychology of Carl G. Jung, Fuko is interested in the search for spiritual meaning and the collective unconscious. Fuko describes 'Internal Evolution':
"The fitted blocks of stones…refer to the heart of the hurricane, to the central truth, to the childlike intactness of our ego, to the darkness of things full of secrets which are beyond the conscious remembrance. The spiral, however, speaks to the continuously widening nature of our self-improvement as well as the ever-changing viability of our internal evolution. The coexisting spirals of the stone merge into each other, and this symbolically relates to the phenomenon that happens among social beings.…the wonderful metamorphosis that passes from time to time in us…generated by an individual being at a higher level of existence. Finally, I aspire to emphasize the power of the complex and of the person shaping the intellectual vitality in the matched forms and in the relationship of the splayed spirals."