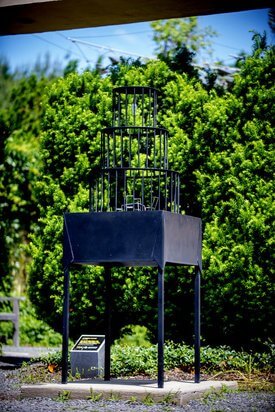 Several Months Before You Were Born, I Married A Man Who Wasn't Your Father
Lynden Cline
Audio Tour
2002
MATERIAL: metal: bronze, stainless steel and light bulb
DIMENSIONS: overall: 64 in x 24 in x 24 in
EDITION: Unique
CREDIT: Grounds For Sculpture, Gift of The Seward Johnson Atelier
© Artist or Artist's Estate, photo: Ken Ek
Press play to learn more
Lynden Cline's works are highly personal.  Family relationships are a recurring theme as Cline tries to reconcile the issues and ramifications of not knowing her biological parents, and of being adopted.
"I work from the heart. I frequently cry…I am so overwhelmed by the process, as I am overwhelmed by the reaction people have to my work."
The evocative titles she assigns to her works are meant to give clues to reading her work. In Several months before you were born, I married a man who wasn't your father, Cline was reacting to a true statement made by her biological mother and reported to her by a social worker. About the symbolism included in the sculpture, Cline stated, "The four chairs in the piece represent the people involved."