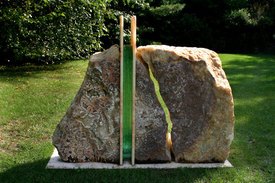 Compression and Expansion
Ron Mehlman
2000
MATERIAL: stone: onyx; other: plate glass
DIMENSIONS: overall: 47 1/4 in x 61 in x 21 in
EDITION: Unique
CREDIT: Grounds For Sculpture, Gift of The Seward Johnson Atelier
© Artist or Artist's Estate, photo: David W. Steele
'Compression and Expansion' joins light with stone. Mehlman cut away at the onyx, layer by layer on one side, to allow it to become translucent and to also expose the inner, glowing golden color. Plates of glass, placed on end and compressed by the onyx on both sides, form another conduit for light, further adding to the work's luminosity while contrasting with the natural hues and the wide variety of unique textures of the stone's untouched surface areas. About this work Mehlman has stated,
"I juxtapose the warm translucency of the stone against the cold watery transparency of the layered glass. The textured edges, the strict verticals, and the naturally occurring surface drawing are remindful of the paintings of some abstract expressionists."
Prior to its arrival at Grounds For Sculpture, 'Compression and Expansion' was on view in Pietrasanta, Italy, for the artist's one-person exhibition in 2002, which was organized by Galleria La Subbia. Several other examples of his stone and glass sculpture were on view at Grounds For Sculpture for the Fall/Winter 1998-1999 Exhibition, and Mehlman was featured in 'The Sculptors Guild: A Group Exhibition'.