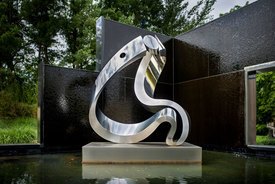 Dragon's Shrill in the Cosmic Void
Yuyu Yang
Audio Tour
1991
MATERIAL: metal: steel, stainless
DIMENSIONS: overall: 81 1/2 in x 81 1/2 in x 46 in
CREDIT: Grounds For Sculpture, Gift of The Seward Johnson Atelier
© Artist's Estate, photo: Ken Ek 
Press play to learn more
Within his artwork, Yang incorporated symbols of the dragon and the phoenix, as well as the earth and the sky, and other thematic pairs prominent in Eastern philosophy. He used these symbols to display the duplicity and interaction of opposites in nature. To link his pieces more closely to their audience and their surroundings, Yang worked with stainless steel creating mirror-like surfaces which in turn reflect their environment. This is readily apparent in his two works on display at Grounds For Sculpture- 'Lunar Brilliance' and 'Dragon's Shrill in the Cosmic Void'.
Yang viewed his sculptures as an event -- an interaction between piece and audience. In reference to one of his New York installations, Yang commented on his own artwork: "My sculptures in general, and stainless steel sculptures in particular, harmonize man and his environment spiritually, mentally, and physically; this is why I call my sculptures lifescapes instead of environmental sculptures." (1)
"Simply Put, The Subtle Sculptural Language of Yuyu Yang", catalogue to the exhibition, Dietrich Contemporary Arts, New York, 1994, np. 95, p. F12.