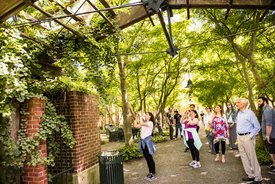 Acer Courtyard
Bamboo Courtyard
photo: dmhphotographer.com
Acer Courtyard
The Acer Courtyard is constructed in a space formerly occupied by what is now the Museum Building, though in the historic Fairgrounds days, it was known as the Rabbit Building. In 1991, during the early days of construction of the sculpture park, this structure was moved to where it stands today.
Located between the Motor Exhibits Building and the Domestic Arts Building, the Acer Courtyard is a shady space for rest, outdoor dining, and concerts. The Japanese Maples (Acer palmatum) trees which create its ambiance were found in an abandoned nursery. They had been left close together and were competing for sunlight, which resulted in tall trees with sparse lower branching. Transplanted into the courtyard in the spring of 1993, these trees create the perfect canopy,  providing shade in the warm months and turning brilliant red in the fall before blanketing the ground in crimson as the leaves drop from the trees.
Bamboo Courtyard
Landscape Designer Brian Carey was interested in planting bamboo to create intimate and natural outdoor spaces and was inspired to integrate the plant into this outdoor room. There are several different types of bamboo employed in concert with Japanese maples and other plants, creating a layered effect. Niki Ketchman's Siren was sited here in part because of the way its form relates to the bamboo.