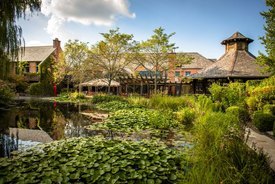 Rat's Restaurant
Please note that there is no path access to Rat's Restaurant from Grounds For Sculpture at this time. The restaurant can be accessed at 16 Fairgrounds Road.
HOURS
Al Fresco Dining on the Terrace by Reservation Only
(parties of 6 or less)
Friday
11:00 – 9:00 PM
Saturday
11:00 AM – 9:00 PM
Sunday
11:00 AM – 8:00 PM
Please call (609) 584-7800 for reservations or visit 
photo: dmhphotographer.com
Rat's Restaurant is designed to make guests feel like they have stepped back in time to Claude Monet's beloved town of Giverny. With lunch, dinner, and Sunday brunch menus featuring superb country French cuisine, Rat's is a must-see (and must-eat) highlight of any visit to Grounds For Sculpture.
With an authentic European aesthetic and bold French menu inspiration, we are committed to fresh seasonality made possible by our close proximity to local neighboring New Jersey farms. Named for the gregarious character in sculptor and creator Seward Johnson's favorite childhood story book, The Wind in the Willows, Rat's will make you feel like you've stepped back in time into a cozy and inviting French countryside café. Whether you visit us for lunch, dinner, brunch, or happy hour – Rat's is a one-of-a-kind experience that will complete your visit to Grounds For Sculpture.