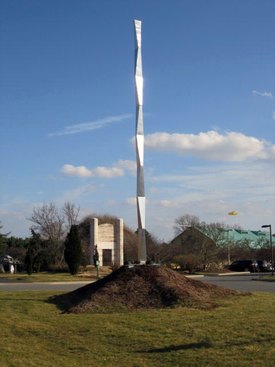 Albedo
Benbow Bullock
2003
MATERIAL: metal: steel, stainless
DIMENSIONS: overall: 396 in x 24 in x 24 in
EDITION: Unique
CREDIT: Grounds For Sculpture, Gift of The Seward Johnson Atelier
© Artist's Estate
The tall, slender 'Albedo' is one in a series of "endless columns" that is dedicated by Benbow Bullock to the highly revered, Romanian-born sculptor, Constantin Brancusi. (Brancusi's own 98-foot-high, metal 'Endless Column' in Târgu-Jui, conceived as a memorial to young Romanians who died in World War I, was completely restored and reassembled in 2000.) The concept for the series evolved gradually over the course of ten years from Bullock's desire to create sculptures that combine the triangular shape of the pyramid, the vertical of the obelisk, and the towering grace and light-seeking qualities of sunflowers.
"Albedo" is a scientific term that refers to the amount of light reflected off an object.
The stainless steel surface of this work is burnished to make it "sing in the sun," an ideal of the artist which is further alluded to in the title.  Bullock has stated,
"Sculptures have a life of their own, casting shadows that change in shape and length daily, and with the changing seasons. Sculptures are abstract sundials."