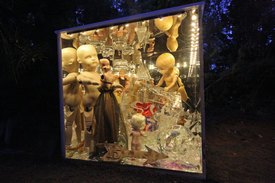 Heart's Desire
Gloria Vanderbilt
Audio Tour
2008
MATERIAL: mixed media: Plexi glass, mirror, cellophane paper, clothing, dolls, glitter, found objects
DIMENSIONS: overall: 71 in x 72 in x 72 in
EDITION: Unique
CREDIT: Grounds For Sculpture, Gift of The Seward Johnson Atelier
© Artist's Estate, photo: David W. Steele
Press play to learn more
"As you look at Heart's Desire, project yourself into the fairy tale world of Dream Box. What it means to me may not be what it means to you…that you will have to discover for yourself." – Gloria Vanderbilt.
Vanderbilt began her series of Plexiglas constructions, entitled 'Dream Boxes' in 1996 after she started having "interesting dreams which related to objects that she came upon in flea markets…" She would bring the objects to the studio and "assembled the dreams into some kind of order in Plexiglas boxes so that they told a story…" These works are incredibly beautiful yet slightly disturbing; like dreams themselves. They are filled with mystery.
Set along a winding pathway of weeping pines inside the Forest of the Subconscious, Heart's Desire evokes many questions for the viewer and admirer to which the artist has tried to answer in an interview with a Grounds For Sculpture staff member in 2008. The central theme of Heart's Desire "is a yearning that does not seem to end." The artist states that there is no "it", just a desire FOR "it." In regard to a number of items in Heart's Desire, the artist has stated that the dolls in the jar are babies awaiting birth, the stars bring about hope, the ice cube symbolizes hopes melting. The large standing doll with arms outstretched connotates compassion and healing. Meanwhile, the armless woman facing the compassion doll demonstrates pain, loss, despair, grief and loneliness. The heart in the clamp stands for the desire for "it". The interpretation by the artist is stoic and humbling in many ways, yet open to interpretation as the viewer's experiences come to the work in varied ways. Vanderbilt's provocative and imaginative art urges the viewer to think as well as to appreciate.