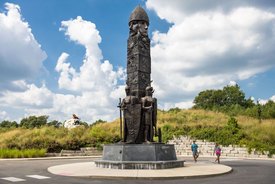 Space, Conquer or Die - Swiatowid
Andrzej Pitynski
2013
MATERIAL: metal: bronze
DIMENSIONS: overall: 432 in x 161 in x 159 in
EDITION: Unique
CREDIT: Grounds For Sculpture, Gift of The Seward Johnson Atelier
© Artist or Artist's Estate, photo: dmh Photography
'Space, Conquer or Die - Swiatowid' was made by monumentalist sculptor Andrew Pitynski. He has created monuments sited all over the world, including in the United States, Poland, Italy, and South Africa. His work also includes monumental portraits, bronze compositions, reliefs and medals. This monumental composition was cast in bronze in Thailand and installed at Grounds For Sculpture in April 2014. The sculpture weighs 7 tons and stands 36.5 feet high by 16 feet wide on a gray granite base.
'Swiatowid' is inspired by ancient European art and legends, which are particularly fascinating to Pitynski. Swiatowid was a pagan god of the sun worshipped in pre-Christian Europe. The sun deity, lord of war, peace, and prosperity was represented with four faces. It was believed that every day, 'Swiatowid' with his long sword in one hand and drinking horn in the other, rode his white horse across the sky from East to West. For Pitynski, his 'Swiatowid' is a bridge between the deep past, the present, and the future. Although representing an ancient legend, the whole composition in the form of a space ship ready to launch in the conquest of outer space. The top of the monument is in the form of a head with a helmet carrying the 14 stars of the European Union. The head has four faces, but each represents a different aspect of the one sun god. The youngest face is toward the East, and the oldest towards the North. The Eastern face has attributes of the god "Lada" lord of love, life, and happiness. The Southern face represents "Swarog" controller of the sun, the stars and the whole solar system. The face to the West is "Mokusz" god of prosperity, banquets and feasting, dance, music and art. Finally, the Northern face is "Perun" god of war, of thunder and lightning, and of natural catastrophes.
Beneath each of the faces are three reliefs. These portray life, love, war, the passage of time, solar symbols and an image of Swiatowid on his horse amongst the stars and planets. Four monumental knights standing 13.5 feet high surround the base of the column. These are the legendary ancestors of the European people. Facing East stands the Amazon, Wanda, queen of the Scythians and Sarmatians. Facing South is Boleslaw the Great, the first Christian king of Poland bearing the spear of St. Moritz which was given to him by the Holy Roman Emperor Otto III. Looking West is Crak, the legendary king of the Sarmatians. Facing North is the first Christian Viking king, Canute the Great, who became king of England, Denmark, Norway and Sweden. He was the nephew of the Polish King Boleslaw the Great, as his mother, Brunhilda, was the sister of Boleslaw the Great and the daughter of the Polish Prince Mieszko I who Christianized Poland in 966 AD.
Pitynski has said: "It was always my dream to create 'Swiatowid' to bring him back from the time before Christ to the twentieth century A.D. and to see him standing in all his glory, a representation of proud legends, giving honor and respect to Europe's deep pagan roots from which grew the beauty of European culture and art. … This monument is my message to humanity: there is only one way to survive – to conquer space, to find a new galaxy, a new star, which will be our new sun and our new god."