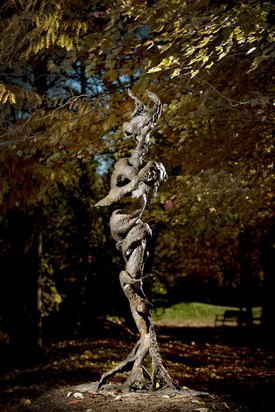 Smoking Root
Jonathan Hertzel
2001
MATERIAL: metal: bronze
DIMENSIONS: overall: 72 in x 35 in x 16 in
CREDIT: Grounds For Sculpture, Gift of the Artist
© Artist or Artist's Estate, photo: Ken Ek
Two works by Jonathan Hertzel are installed near the Maple Allee. 'Smoking Root' and 'The Gathering', both made of cast bronze, suggest mythical figures emerging from the ground. Hertzel says of his bronzes,
"My work is inspired by an unfurling of elemental forces; earth, air, water, fire coalescing into the underlying expression of the human form. The sculptures are rooted in motion, transition and passage."
In addition to creating sculpture in both clay and bronze, Jonathan Hertzel is also an accomplished and prolific painter. The same themes of movement and elemental energy seen in his three-dimensional works are continued throughout his paintings and works on paper, which are less an extension of his sculptural work and more of a continuation of the same creative practice, only in different mediums.