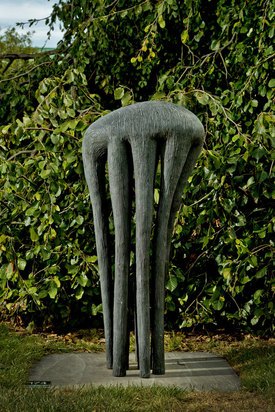 Henry Takes His First Steps
Mary Oros
2005
MATERIAL: metal: aluminum
DIMENSIONS: overall: 45 1/2 in x 23 in x 15 in
EDITION: Edition, 1/3
CREDIT: Grounds For Sculpture, Gift of The Seward Johnson Atelier
© Artist or Artist's Estate, photo: Ken Ek 
Oros begins with a visual concept and starts her process by creating a wax model, or by drawing. Color, texture, and proportion play an important role for the artist, and she is interested in the way in which they can alter appearance.  Her inspirations come from observations of the physical world- the form of this sculpture was inspired by a postcard of an antique hair comb.
"Henry" appears as an awkward, vulnerable creature. A rounded, headless torso sits atop several thin and spindly legs. Oros has stated that her work, "is motivated by an understanding that primal and intuitive knowing inevitably hold greater meaning than the dictates of society and culture."
'Henry Takes His First Steps' was first included in the Spring/Summer 2004 Exhibition season, specifically in the exhibit 'Off the Rim: Selections from the Pacific Rim Sculptors Group'. The original work on display was made of concrete and plaster, and the current version was remade in painted aluminum and acquired for the GFS collection.