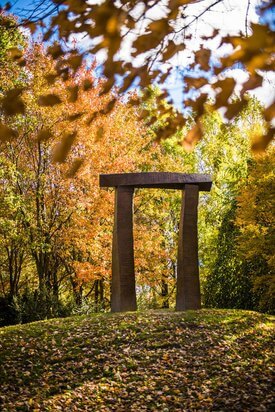 Lintel
Emilie Benes Brzezinski
1993
MATERIAL: metal: bronze
DIMENSIONS: overall: 128 in x 117 in x 28 in
EDITION: Unique
CREDIT: Grounds For Sculpture, Gift of The Seward Johnson Atelier
© Artist or Artist's Estate, photo: dmh Photography
Since Brzezinski first started to work in wood in 1988, her focus has been to present a balance between the inherent characteristics of the medium and the artist's hand in the process of creativity. The artists explains:
"The highlights of creative work and inspiration is the finding of the material, which becomes my guide and the vocabulary for the composition. As I work, the anomalies of nature (broken off branches, cracks, hollow areas, unusual growths and burls) are featured in the design. And process, including cutting with chain saw, axe, and chisel, is retained as a function of surface direction or of punctuation of an area. In my work, enough of the original trunk is maintained so that the sense of the growing tree is retained, such is my respect for the material. My statement, contained within the primitive structure and format, would be about the growth and survival of the tree as part of Nature."
 'Lintel' was first sculpted from the trunks of cherry trees, then cast into bronze at the Johnson Atelier Technical Institute of Sculpture (now The Seward Johnson Atelier). The artist's innovative design of wedge-shaped columns gives strength to her piece both structurally and visually.