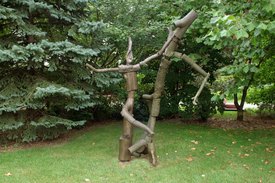 Dancers
Alexander Rutsch
1997
MATERIAL: metal:  bronze
DIMENSIONS: overall: 113 in x 92 in x 60 in
EDITION: Edition, 2/4
CREDIT: Grounds For Sculpture, Gift of The Seward Johnson Atelier
© Artist's Estate, photo: David W. Steele
'Dancers' was cast in bronze from an original work in wood. Using sections of tree trunks and limbs, Rutsch assembled them to form two lively linear figures, moving in space. The airy grace and wit of the 'Dancers' celebrates life and nature as it evokes multiple folkloric and mythological references.
Rutsch approached his work with open, inquisitive eyes and a poetic hand constantly searching for rhythms of form and vibrations of color. His body of work including sculpture, painting, drawing, and printing presents a stylistic fusion of Expressionism, Cubism, Dada, Fauvism, Cobra, and Primitivism.
Rutsch looked to dreams, memories, sounds, numbers, and objects in his surroundings for inspiration. He firmly believed that art transcends all of our humanity. Averse to politics, "profound symbolism," and interpretation, he embraced and surrendered himself to the creative process. Additionally, Rutsch often recycled materials and incorporated "found" objects into his sculptural constructions.