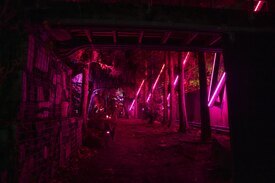 Forest of the Subconscious

Klip Collective, Forest of the Subconscious at Grounds For Sculpture, photo: David Michael Howarth Photography
Fashion designer and artist Gloria Vanderbilt and Seward Johnson collaborated to create the Forest of the Subconscious, considering every detail of the space, from its winding pathways and trees to the artwork to be included in this unique environment. The Seward Johnson Atelier enlarged one of Vanderbilt's 'Dream Box' works from its original 12" cube to the 6' work entitled Heart's Desire that stands in the Forest of the Subconscious today. The area's meandering pathways run between rows of weeping white pine trees and weeping Norway spruce trees. As the tree canopy grew in, an understory of shade plants was added to complete the scene. This garden opened to the public in 2008.
EXHIBITION ON VIEW
November 26th, 2021 - February 27th, 2022
Night Forms: dreamloop by Klip Collective
Forest of the Subconscious 
Float around the immersion of the illuminated forest. Catch the computational whispers of Baudrillard's "Simulacra and Simulation" through hyper-directional laser speakers. The audio is perceived inside your head while exploring the simulated brain.
Music written and produced by Julian Grefe