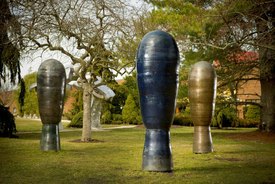 Three Graces
Toshiko Takaezu
1994
MATERIAL: metal: bronze
DIMENSIONS: 3 pieces, each element: 70 in x 23 in x 23 cm
EDITION: Unique
CREDIT: Grounds For Sculpture, Gift of The Seward Johnson Atelier
© Artist's Estate, photo: Ken Ek 
Drawing inspiration from the natural world and a combination of Eastern and Western techniques and aesthetics, Takaezu crafted a signature vocabulary of ceramic forms. For the most part, her earlier works are wheel thrown, but as she began to envision larger forms, she incorporated hand-built techniques in order to transcend the restrictions of the wheel.
Her painterly application of glazes acts as a dynamic, visual counterpoint to her meticulously crafted shapes. Regarding her affinity for the clay medium, the artist said,
"One of the best things about clay is that I can be completely free and honest with it. And clay responds to me. The clay is alive and even when it is dry, it is still breathing! I can feel the response in my hands, and I don't have to force the clay. The whole process is an interplay between the clay and myself and often the clay has much to say."(1) 
Many of her pieces remain unnamed; however, she sometimes titled her works according to their inspiration, including the astronomical lore of Egypt, West Africa, and Greek and Roman mythology.  'Three Graces' is a trio of forms that gently swell from their individual cylindrical bases. Cast in bronze from molds made from the original ceramic works, the turning lines from the potter's wheel are still visible. This work is part of a series of larger works completed by the artist after her retirement from the faculty of the Creative Arts Program at Princeton University in 1992.  Takaezu took advantage of her larger studio space, bigger kilns, and increased time to experiment with new ideas on a larger scale.
The Penland School of Crafts Book of Pottery, New York: Bubbs-Merrill, 1973, p. 145.