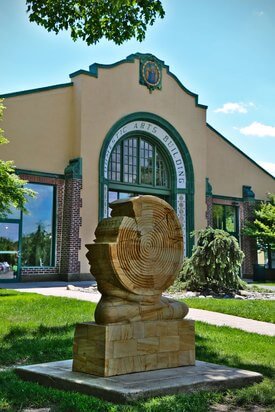 Domestic Arts Building
One of the original New Jersey State fairgrounds buildings. Now a gallery of rotating exhibitions by global contemporary artists.
EXHIBITION ON VIEW
APRIL 23, 2023 - JANUARY 7, 2024
Grounds For Sculpture is pleased to present two exhibitions as part of our new Perspectives series – Local Voices: Memories, Stories, and Portraits, and Spiral Q: The Parade.
LOCAL VOICES: MEMORIES, STORIES, AND PORTRAITS
Grounds for Sculpture (GFS) is partnering with Madhusmita Bora, a folk and traditional artist, teacher and trained journalist as she gathers oral histories to present a range of diverse and uniquely personal stories within the Indian American community. This exhibition centers on community members located through out New Jersey who will share their stories through visual and audio presentations. Individuals who will be selected reflect a broad scope of this community through a lens of ability, age, caste, economic, education, immigration status, language, religion, and sexual orientation. Join us as we stay hyperlocal and focus on the intimate stories which connect us through love, loss and resilience.
This exhibition is Artist Led, Community Driven, presenting an opportunity to engage our community with the lead artist's creative practice, while encouraging community members to expressing their stories, ideas, and passions through the artist's medium, or process, of choice. Bora will host a workshop at GFS in 2023 and we will offer additional opportunities to learn more about the interview and selection process. GFS is thrilled to work with The South Asian American Digital Archive (SAADA) as a preservation partner, ensuring the stories shared for this exhibition will be permanently saved for future generations.
SPIRAL Q: THE PARADE
Spiral Q: The Parade is an exhibition rooted in communal, collective advocacy for the greater good.  This immersive installation highlights Spiral Q's rich history of processions and approaches to individual and community expression, such as memorial tributes, wearable structures, large scale puppetry, and more.
Participatory workshops and community collaborations ensure the accessibility of this exhibition.
Spiral Q is a Philadelphia-based nonprofit that promotes social and political change through giant puppetry, pageantry and direct action. Founded in 1996, Spiral Q has become recognized locally and nationally for its originality, capacity to inspire individuals of all ages and backgrounds, and its ability to creatively invigorate communities. Working with around 3,500 individuals each year, Spiral Q brings its public work to estimated audiences of 30,000 annually. The mission is to build strong and equitable communities characterized by creativity, joy, can-do attitudes, and the courage to act on their convictions.