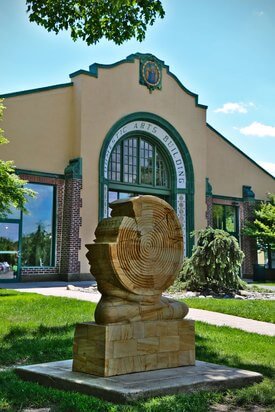 Domestic Arts Building

One of the original New Jersey State fairgrounds buildings. Now a gallery of rotating exhibitions by global contemporary artists.
EXHIBITION ON VIEW
MAY 22, 2022 — JANUARY 8, 2023
FRAGILE: EARTH
Conceived through a partnership with The Color Network, Grounds For Sculpture presents an exhibition titled Fragile: Earth opening in May 2022. The Color Network's mission is to aid in the advancement of people of color in the ceramic arts. Their focus includes exhibitions, an online database, community events, and mentorship.
Fragile: Earth frames artists' reflections on social, environmental, and individual perceptions of fragility through the unique materiality of clay and ceramics. Metaphorically, clay perfectly embodies the duality of fragility. Soft and vulnerable when unfired, however it is also flexible and forgiving. When fired it is solid and strong but can easily shatter. How do the facets of fragility manifest in the world, in our society, and in our personal lives? This exhibition is an exploration of vulnerability as strength, the faults of a strong façade, and the fragility of entities we take for granted, such as nature and government, amid ongoing global health and social crises.
This exhibition is guest curated by Angelik Vizcarrondo-Laboy (She/Her), a New York and Los Angeles-based curator, writer, and arts administrator of contemporary art and craft. Her current research focuses on the subversive power of humor, cuteness, and leisure as tools of protest. Amplifying the voices of BIPOC artists is central to her practice. She serves as Assistant Curator at the Museum of Arts and Design (MAD), NY. She has helped the curatorial team organize over twenty exhibitions since 2016, including 2021s Craft Front & Center. She also oversees MAD's Burke Prize, a prestigious contemporary craft award. Recent projects include exhibitions Sleight of Hand (2020) at the Center for Craft, NC, where she was a 2020 curatorial fellow, and Clay Is Just Thick Paint (2020) at Greenwich House Pottery, NY. She has also contributed to Cultured and American Craft magazines and catalogs at MAD and the Bemis Center for Contemporary Arts, NE. She holds an MA from the Bard Graduate Center, NY, in Decorative Arts, Design History, & Material Culture.
The work of sixteen artists will be featured in this exhibition, including work by the following artists: Natalia Arbelaez, Ashwini Bhat, Ebitenyefa Baralaye, Syd Carpenter, Adam Chau, Jennifer Ling Datchuk, Magdolene Dykstra, April Felipe, Raheleh Filsoofi, Salvador Jiménez Flores, Anabel Juárez, and Harlan Reano. Four additional artists will be selected by the Guest Curator from an open call.
The exhibition will be accompanied by a series of artist-led programs connected to the mission of The Color Network and centered around the practice of several of the Network's artists. Programs will include intersections with trauma-informed art sessions, ESL/Spanish workshops, urban gardening, and professional development for artists.
In addition to these programs GFS and The Color Network will co-host a fundraising event, Fragile: Cup, which will allow visitors to bid on and take home one of a kind ceramic mugs created by contemporary artists.  Funds raised during this event will support the mission of The Color Network.  For more information about The Color Network please visit https://www.thecolornetwork.org/.