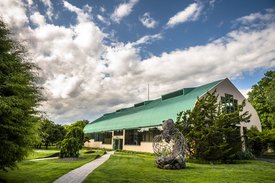 Museum Building (OPEN FOR WORKSHOPS ONLY)
One of the original New Jersey State fairgrounds buildings. Now a gallery of rotating exhibitions by global contemporary artists.
photo: dmhphotographer.com
Have you ever been mesmerized watching a ceramic artist work at the pottery wheel turning lumps of clay into vessels? Our Museum Building offers ceramics classes for all ages and abilities! Check out our calendar for upcoming classes.