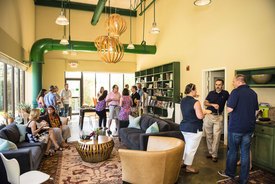 Member Lounge (CLOSED)
HOURS (MEMBERS ONLY):
THURSDAY - SUNDAY
1 PM - 4 PM
photo: dmhphotographer.com
Located in a bright corner of the SJCA building overlooking the gardens, the Member Lounge is an inviting space for members to take a break with a complimentary refreshment. Read the latest museum publications, learn about upcoming programs and trips, or connect with a staff member.
Not a member? See a Visitor Assistant at the Welcome Center or join online.